Testimony of David
Background
Date of birth: March 19, 1961
Place of birth: The Hague, The Netherlands
Church: Grown up in a Traditional Church, Pentecost Church, later an Apostolic/Prophetic Church
Baptised in the Holy Spirit: January 1993
Baptised in Water: August 1995
School of the Prophets: March 1998 – September 1998
Apostolic Leadership Training: January 1999 – June 1999
Executive Apostolic Leadership: September 1999 – December 1999
Founder Boaz (taking care of the homeless): 1993 – 1997
Founder Roaring Lions Ministries: June 2015
Work Experience: Interim Management, Consultant, Liquidator, Lecturer MBA and Senior Lecturer Business Economics and Accounting (bachelor level).
Divine Encounters
April 2013, Oudtshoorn, Cango Caves, South Africa. The Lord told David: 'My GLORY is coming, get ready!'

June 2015, The Hague, The Netherlands, separation time for 90 days. In that period David had two encounters with the Lord Jesus and many encounters with the Holy Spirit. During the first encounter, the Lord Jesus showed David while walking in the inner city of The Hague, how His Church is in ruïn [Nehemiah 2:17] and how He wept for the lost souls. The second encounter with the Lord Jesus was during David's prayer walk at night telling him that it will only take a short time to meet Him at the Marriage Supper of the Lamb [Revelation 19:6-9].
The encounters with the Holy Spirit caused David to weep most of the time during this 3 months period. Asking the Lord why he wept so much the Lord replied: "You mainly weep for 2 groups, the lost souls and the apostate (lukewarm) church. On a certain day while weeping before the Lord, David cried out: 'Father, they do not see.' This indicates the apostate church is blind and is not yet ready for the second coming of the Lord Jesus Christ.
The Call
Two moments occurred in this period (2015) the Lord asked David to give up everything. The first time David replied: 'Yes Lord, I will go!' The second time heI replied: 'Yes Lord, I go!'
Mandate
The Mandate the Lord gave in this period: 'Bring and Establish Apostolic Reformation into the Nations.' The Preparation of the Bride.
Mission India & Thailand 2015 – 2017
After these 90 days in 2015 David was directed to India, he sold his house, his car and sowed all his belongings. With 2 suitcases left he went to India, Andhra Pradesh. He ministered for 3 weeks and trained outreach teams and taught on Praise and Intercession. He directed the pastors to appoint elders and initiated a baptismservice for members. In December 2015 David travelled from India to Thailand to do the same as in India for 8 months. In addition I studied the Book of Revelation thoroughly for 240 hours. Both mission trips were followed by many miracles, signs and wonders. As the Lord instructed me to go back to The Netherlands, he bought a ticket without knowing were to go. Two days before his departure (the day of the coupe in Turkey) a person that had not contacted him for 10 years phoned him and asked how he was doing. god provided a wonderful solution again.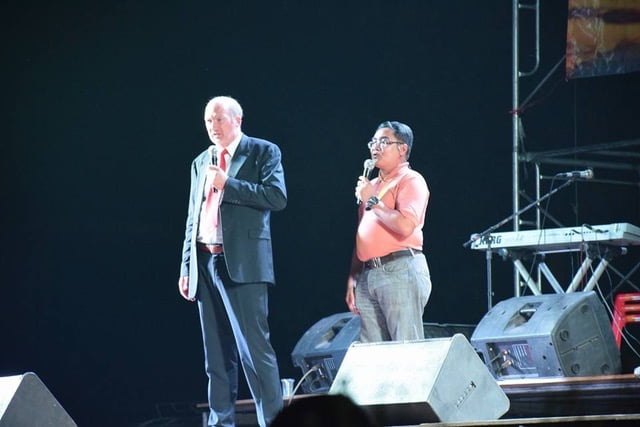 Mission South Africa 2017 – 2020
In January 2018 David was ordained as Apostle in South Africa. Active in National, Provincial and Local Parliamentary Intercession in the Parliamentary buildings of Capetown, SA. Established 2 home cells in Townships. Taking care for the poor & needy. Raised a home cell in Capetown. Raised an Intercontinental Intercession team, called Roar Team. A team existing of intercessors. Roaring various times a week for the nations that the LORD placed upon our heart. Roaring Apostolic Decrees based on Prophetic Insight.
RLM organised A Plea on Abortion for the United States of America via ZOOM on September 5, 2020.
September 2020 RLM organised also a Plea on South Africa to bring the nation to its heavenly destiny; South Africa, an Apostolic Nation. Members of the royal Zulu family and a member of Parliament joined this 'Standing in the gap' meeting.
During the lockdown in South Africa (04-2020) RLM organised street crusades in townships during the times we were allowed to be outside (0600-0900am). Marching, roaring, praising and preaching on the streets. More than 300 people received Jesus in their hearts. They were discipled and 3 churches were born out of this. Baptism took place on the streets. Miracles of healing and deliverance were just common. Glory to God.
David served 2 different radio channels and his preachings were about 5times per week broadcasted and has written 2 books; Words of Power with 30 daily devotionals. And The meaning of the Hebrew months Today.
February 2020 the School of Ministry – Special Forces was launched. An in-depth training existing of 7 modules; Apostolic Praise, Worship and Dance, Apostolic Intercession, Altar of Incense, Authority, Kingdom Economics, Eschatology and Evangelism.
Mission to Brazil 2021 – 2022
David was invited to preach and teach the gospel in Brazil. About 45 conferences took place in São Paulo, Rio de Janeiro, Campo Mourão, Maringá and Salvador. Many, many people got touched by the Holy Spirit and received healing, emotional and/or physical, got equipped, were released into their God given destiny.
David took a church with him to the streets in São Paulo and preached the gospel on a square full of restaurants and cafe's. People with depression were invited for receiving prayer. Several people were set free and testified they felt a change in their lives. Main focus on these conferences was Praise & Worship and Evangelism.